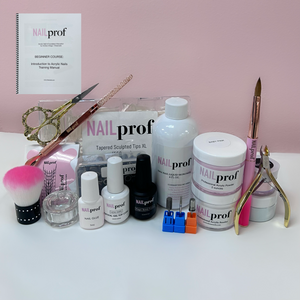 Online Class Kit includes all the basic products needed to complete the online class hosted by @dreasnails
If you have purchased an online class kit you must order your kit at least 5 business days prior to the class date receive it in time (based on location). Also available for instore pickup. 
Products Included: Tips, Pinchers, Nail Glue, Top Coat, Primer, Carbide Bit, Mandrel Bit, Cuticle Bit, Sanding Bands, Monomer, Cover Acrylic, Glitter Acrylic, Pigment Acrylic, Clear Acrylic, Cuticle Nippers, Kolinsky Brush Size 10, Scissors, Dust Brush, Monomer Dish, 5 Nail Forms. 
Beginner Manual Optional 
Class Sold Separately